St. Pete Class IV Deep TISSUE Laser Therapy

Burghealth Chiropractic & Wellness is proud to offer the strongest Class IV deep tissue laser therapy to the St Pete area. Class IV deep tissue laser therapy is clinically proven as an effective treatment for pain and inflammation. For those suffering from chronic pain, drug-free laser therapy offers relief without invasive surgery or addictive medications. Let us get you started on your pain relief journey. Call us to find out more about how laser therapy can work for you.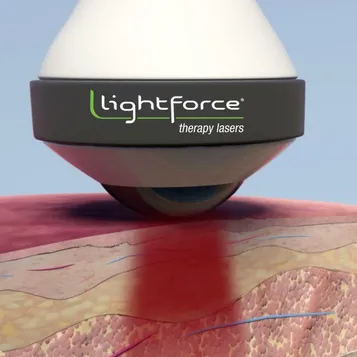 What is Laser Therapy?
Laser therapy is a medical treatment that uses focused light to stimulate a process called photobiomodulation (PBM). During PBM, photons enter the tissue and interact with the cytochrome c complex within mitochondria. This interaction triggers a biological cascade of events that leads to an increase in cellular metabolism, decrease in pain, reduction in muscle spasm, and improved microcirculation to injured tissue. This treatment is FDA cleared and provides patients a non-invasive, non-pharmacological alternative for pain relief.
Treatment Solutions
Laser therapy is used to treat acute and chronic conditions as well as post-activity recovery. It is also used as another option to prescription drugs, a tool to prolong the need for some surgeries, as well as pre and post-surgery treatment to help control pain and swelling.
Class IV Laser Therapy
What is a Class IV Therapy Laser? Effective laser therapy administration is a direct function of power and time as it relates to the dose delivered. Administering the optimal treatment dose to patients produces consistent positive outcomes. Class IV therapy lasers provide more energy to deep structures in less time. This ultimately assists in providing an energy dose that results in positive, reproducible outcomes. Higher wattage also results in faster treatment times and provides changes in pain complaints that are unachievable with low power lasers. LightForce® lasers provide a level of versatility unrivaled by other Class I, II, and IIIb lasers due to their ability to treat both superficial and deep tissue conditions.
Acute Conditions
Therapy lasers for acute conditions are particularly effective when it is administered as soon as possible following injury (assuming there is no active hemorrhaging). Bringing pain under control quickly helps the healing process and usually helps promote better outcomes.

Chronic Conditions
With chronic conditions, research has shown that therapy lasers can be used to help combat persistent pain and promote circulation to damaged tissues. It can be a powerful, non-pharmaceutical solution to reduce pain without the side effects of medication.

Post-Activity Recovery
LightForce® Therapy Lasers can be found on the sidelines of many pro, college, and Olympic sports teams across the United States and many parts of Europe and Asia. Laser therapy has been shown to be effective at improving post-activity recovery times and reducing delayed onset muscle soreness (DOMS).
GET THEM BACK IN THE GAME
Speed up recovery time with a drug-free, surgery-free solution.
When injuries happen, addressing the inflammation and speeding up recovery time is paramount. Non-invasive Deep Tissue Laser Therapy™ helps with both short-term pain blocking and improved long-term function.
Over 250 professional and college sports teams use LightForce® Therapy Lasers in their training rooms to treat high level athletes. When you need your athletes performing at their best, you need to treat with the best. Recommended by the Professional Football Athletic Trainers Society
Clinical Applications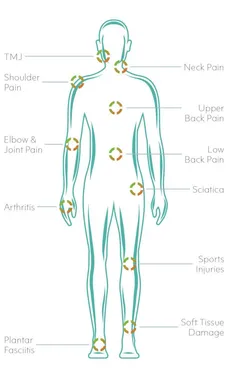 LightForce® Therapy Lasers can effectively be used to treat the following painful conditions:
TMJ
Neck Pain
Shoulder Pain
Elbow & Joint Pain
Upper Back Pain
Low Back Pain
Sciatica
Arthritis
Sports Injuries
Soft Tissue Damage
Plantar Fasciitis
Safety
LightForce® therapy lasers are cleared by the FDA and adhere to strict ISO standards in order to provide you with the safest non-invasive treatment option on the market. Laser therapy provides you with a safe and effective alternative to drugs and surgery.
THE SCIENCE AND EVIDENCE BACK IT
Recommended Abstracts
Low Back Pain
Effect of diode laser in the treatment of patients with nonspecific chronic low back pain: a randomized controlled trial https://www.ncbi.nlm.nih.gov/pubmed/25141218
Musculoskeletal Disorders
Effectiveness of high intensity laser therapy in the treatment of musculoskeletal disorders https://www.ncbi.nlm.nih.gov/pubmed/30572425
Osteoarthritis
High-intensity versus low-level laser therapy in the treatment of patients with knee osteoarthritis: a randomized controlled trial https://www.ncbi.nlm.nih.gov/pubmed/24487957
Plantar Fasciitis
The effect of high-intensity versus low-level therapy in the management of plantar fasciitis: a randomized clinical trial. https://www.ncbi.nlm.nih.gov/pubmed/29627888
Subacromial Impingement Syndrome
Low-level laser and local corticosteroid injection in the treatment of subacromial impingement syndrome: a controlled clinical trial https://www.ncbi.nlm.nih.gov/pubmed/24519921
Short-term Effects of High-Intensity Laser Therapy Versus Ultrasound Therapy in the Treatment of People With Subacromial Impingement Syndrome: A Randomized Clinical Trial https://www.ncbi.nlm.nih.gov/pubmed/19482902
Tendinopathy
Photobiomodulation and eccentric exercise for Achilles tendinopathy: a randomized controlled trial. https://www.ncbi.nlm.nih.gov/pubmed/26610637
Low Level Laser Treatment of Tendinopathy: A Systematic Review with Meta-analysis. https://www.ncbi.nlm.nih.gov/pubmed/19708800
https://lightforcemedical.com/category/studies/
Contact Burghealth Chiropractic & Wellness today to book your deep laser therapy appointment and begin your healing.